Attenborough Learning Trust is a family of like-minded schools. We welcome approaches from schools wishing to discuss joining our Trust. Please be assured that any contact will be treated with complete discretion and confidentially.
Attenborough Learning Trust is open for growth and we do hold sponsoring academy status. However, our model for growth is to continually ensure our Trust is the absolute best it can be whilst adhering to our vision, values and principles to act ethically at all times.
We will not actively seek or persuade schools to join us, but if you have heard about us and would like to see or know more, then please don't hesitate to contact our CEO, Jane Ridgewell, for a conversation on 0116 253 1382 or by emailing info@attenboroughlearningtrust.org.uk
Our vision, values and beliefs:
We are driven by our vision to: 'Become the Trust for world-class quality education and personal achievement through partnership and collaboration'.
Our values and beliefs include:
Ensuring that all children have access to high quality learning opportunities tailored to their needs
Ensuring a balance of autonomy for individual schools alongside collective accountability
Creating and supporting an active learning community which includes staff, children and families
Creating local solutions to local issues
See 'Our Vision' page for full details on our Vision; Mission and Purpose; and Values and Beliefs.
Maintaining school identity and approach
We operate a model of high delegation, each school has autonomy to lead its own curriculum, manage its own budget, and the individual nature of each school, from uniform to holidays and school days, is protected.
Strength through partnership
Support and challenge is provided through:
High-quality governance and executive leadership
Robust monitoring and intervention where required
Networks of school leaders collaborating on teaching and learning, curriculum, and enrichment opportunities
Headteachers collaborating on a coherent strategic direction and drive
Quality joint INSET and continuing professional development
Staff opportunities to work across other schools in the MAT
Quality financial systems ensuring that school budgets effectively deliver the priorities, supported by clear and consistent financial procedures and reporting systems and shared services across a range of support functions
Our proven track record
We currently have three outstanding schools and one good school in the trust. All of our schools contribute activities which help strengthen our trust.
ALT has an established school improvement and intervention model developed in agreement with the leaders of the founding schools. Evidence of improvement can be seen in the data associated with the trust schools, specifically:- Y6 combined outcomes are 18% above national average and accelerated KS1 improvements have been achieved at one school.
We have led development work outside of the trust through the early reading and writing strategy in the city, known as Knowledge Transfer Centres (KTC), which increased city wide Phonics results from 68% in 2014 to 80% in 2017. We have also delivered school to school support with a number of city schools.
Due Diligence Process
There are many different reasons why school leaders may decide to explore whether joining a multi academy trust might be right for them. Our Due Diligence Process document is not aimed at the benefits or drawbacks of the academies programme in general, it's about finding out whether joining our particular family of schools is right for you. During this process we would urge you to seek answers to some of the following key questions:
How will your children, staff and parents benefit from joining Attenborough Learning Trust?
Do our values and ethos fit with your own?
What can you bring to the trust to improve the life chances of all our children?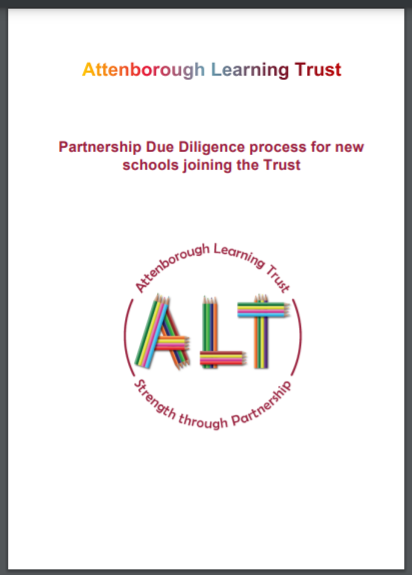 Next steps:
We are looking forward to welcoming new schools into our trust. If you are considering joining we'd encourage you to see what the Staff, Governors and Parents already in our trust have to say.
If you would like to see or know more, then please don't hesitate to contact our CEO, Jane Ridgewell, for a conversation on 0116 253 1382 or by emailing info@attenboroughlearningtrust.org.u
Buswells Lodge Primary School
Buswells Lodge Primary School is on the journey to join our Trust.  Click on the link below to read the FAQ's.
FAQ's